Replies: 0 (
Who?
), Viewed: 1044 times.
Lab Assistant
Original Poster
#1
9th Sep 2017 at 9:11 AM
Appearance-changing clothes? Is it possible?
There's a show that's really popular right now, called Popee The Performer, and in it is a character named Kedamono. Kedamono is a wolf beast who hides his face behind a mask that changes depending on his mood/expression under the mask.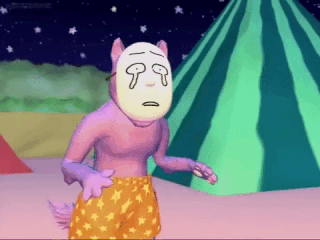 There seems to be an endless number of masks, apparently disappearing shortly after they fall off (Sometimes they're picked up or tripped over, but most of the time the masks that fall are never referenced again unless he is wearing them).
Now, it wouldn't be hard to make these as decorations, I think, or a few individual masks with the expressions changing per swatch. But I'm wondering if it would be possible to make it so the masks change appearance in accordance to the sim's mood. Obviously, having it fall off like that would be much more complex, but I figure, theoretically, I just assign expressions to moodlets, or something along those lines.
Of course, I've never modded before, only created some clothing and decorative picture frames, so I could be completely wrong here.
Could I get some thoughts and input from a few experienced modders?
Side note: I think that if this can be made possible, imagine what else we could do with the idea! Shoes and gloves that light up, bracelets that glow in the dark, ears and tails that respond to mood!
Back to top